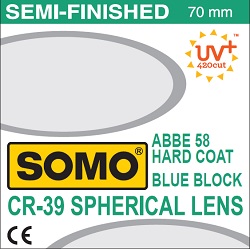 SOMO 1.50 CR 39 Spherical Hard Coat UV420+
Cost Effective
Insurance Product Leader
Lab Staple
Scratch Resistant Coat
Bonus Feature- Blue Block Protection
UV420 & Blue Block is part of monomer.
Specifications
Spherical Design
CR 39 Material
Refractive Index 1.50
Specific Gravity 1.32
Abbe Value 58
Blocks UVA and UVB as well as High Energy Visible Light
Maintains Clear Visibility while blocking harmful light
Get To know UV420+ Blue Block Products:
A lot of confusion falls with people believing that all blue light is bad.  This is not true. We all need blue light to view colors and for our personal circadian rhythm. If you use a blue light tester pen, you must understand the blue light properties.  The blue light wavelength in the laser pens are 405nm. When testing our UV420+ lenses, the laser pen light will not pass thru the lens; yet some blue light will filter through- this is not harmful blue light.  Our UV420+ will block up to 420nm, rendering the tester pen with 405nm not compatible for testing. You end up missing the point of the tester pen.
UV420+ products block ultra-violet lights up to 420, as a bonus feature, it blocks harmful blue light.