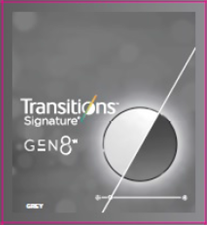 Gray Color
Activates 30% Faster
Darker and Longer Lasting.
Protection from UV and Blue Light
HMC+ Anti-Reflective Coating
Get To Know Blue Block Products:

First you must understand the properties of blue light. There is good or beneficial blue light; there is bad or harmful blue light.
Alot of confusion falls with many believing that all blue light is bad. This is not true. We all need blue light to view colors and for our personal circadian rhythm. Some use blue light tester pens but do not understand blue light. The blue light wavelength in the laser pens are 405nm; this does not apply properly to blue light lenses. When testing our lenses, the laser pen light will pass thru the lens, but it is not the harmful blue light. You end up missing the point of the tester pen.
Transitions® lenses block 20% of the harmful blue light indoors and 87% of the harmful blue light outdoors. Harmful blue light is calculated from 380 to 460nm range. The balance that is not blocked is good or beneficial blue light.
Specifications:
Spherical Design
CR 39 Material
1.502 Index
1.32 Specific Gravity
58 Abbe Value
Blocks 20% of harmful blue light indoors
Blocks 87% of harmful blue light outdoors