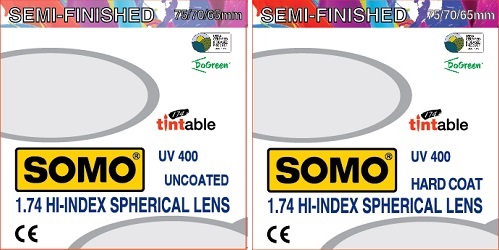 Go Green with our first bio-based lens!
USDA Certified Biobased Product
Available in Tintable Coat or Non Coat
Ultra Thin and Lightweight
27% Thinner than Polycarbonate
15% Thinner than 1.67 Index
Minimize Distortion at Edge of Lens for the Best Vision
Ultimate Lens Design Technology
Best Cosmetics by Reducing "EYE SHRINKING" Appearance of High Power Prescriptions
Specifications
Spherical Design
MR-174 Material
1.47 Specific Gravity
33 Abbe Value
99.5% Visible Light Transmittance
100% UV Protection @ 400nm
Scratch-Resistant Hardcoat
Single Vision Semi-Finished recommended for Free Form processing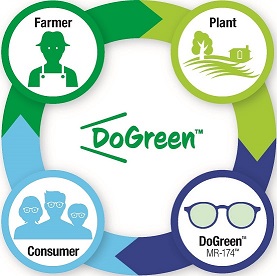 USDA Certified Bio-based Products: The United States Department of Agriculture gives "USDA BioPreferred" certification to products derived from plants and other renewable agricultural, marine, and forestry materials which give an alternative to conventional petroleum derived products.
Our 1.74 has been certified to be USDA Biomass 82%. This means the ratio of fossil fuel-derived carbon and biomass-derived ingredients is 18 to 82, respectively, when tested by ASTM-D6866-12, the standard test for determining bio-based content of solid, liquid, and gaseous samples using carbon-14 radiocarbon analysis.