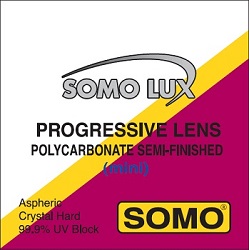 SOMO EZ View Mini Progressive
Aspheric Design in All Regions
Wide Reading Zone is Comfortable in Near Zones
Asymmetry Design Provides Minimum Distortions
Multidesign was Developed into each Base Curve and Addition to provide Optimum Vision.
Distortion is Minimum
Corridor was Designed wide enabling fluid eye movement between focal zone.
Descentration is 3.0mm Optical Center(right or left) from the Geometric Center.
Fitting Height is a minimum of 16mm.
Specifications
Aspheric Design
1.586 Refractive Index
1.20 Specific Gravity
31 Abbe Value
100% UV Protection at 380nm
Scratch-Resistant Hardcoat